Registration has three purposes:
Entering your personal information into the ILL system means you will not have to supply the information again when making future requests.
Having your e-mail and regular mail addresses on file with Interlibrary Loan enables us to notify you promptly and deliver materials accurately when your request arrives in the library.
By specifying a Username and Password of your choosing, you will have secure access to information about your requests. You will also be able to review the list of items you have requested in the past.
Important:
All ILL communication is done via E-Mail. Please keep your E-Mail up-to-date.
Books, DVDs, or CDs need to be picked up at the Circulation Desk. We do not mail them.
Articles, book chapters, and other copies will be available through your ILL account. You can log in to the system to pick them up. If they are not available electronically, they will be waiting at the Circulation Desk.
During registration, you will be asked to choose a Username and Password. You will use this Username and Password when logging on to the ILL system in the future.
Username
Choose anything you like, such as your name, abbreviations, or an alphanumeric code.
Password
Choose anything you like. We recommend that you follow good security practice and choose a password that is different from those you use to access other systems.
ILLiad will encrypt your password, so it will remain secure. Only you will know your password.
Go to the Library's ILL page: http://carrollu.illiad.oclc.org/illiad/logon.html
If the last time you used ILL was before June 29th, 2010, you need to register for an new ILL account.
Click on the "First Time Users" link: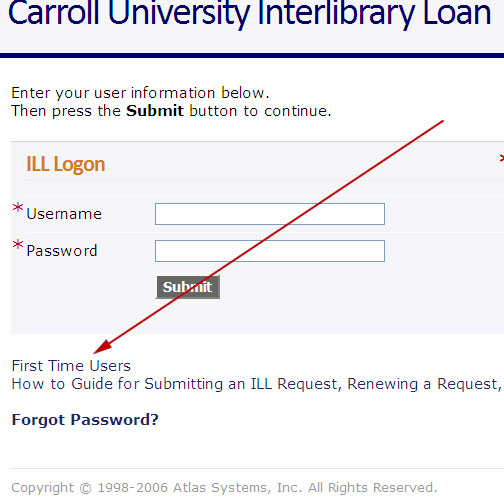 Read through the instructions about the system and choosing a username & password, and then click the "First Time Users Click Here" button, which will take you to the registration form.
Fill out your personal information on the form. Please remember that it is your responsibility to keep this form updated if your information changes.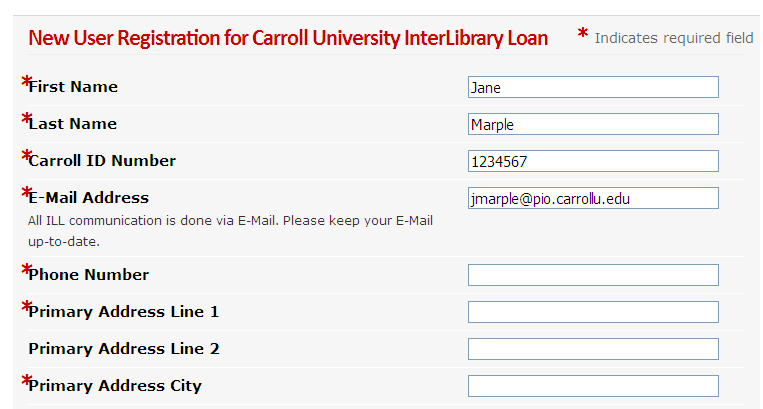 You also need to choose your status on campus and your major. We will verify your status and information once you register and make any changes necessary.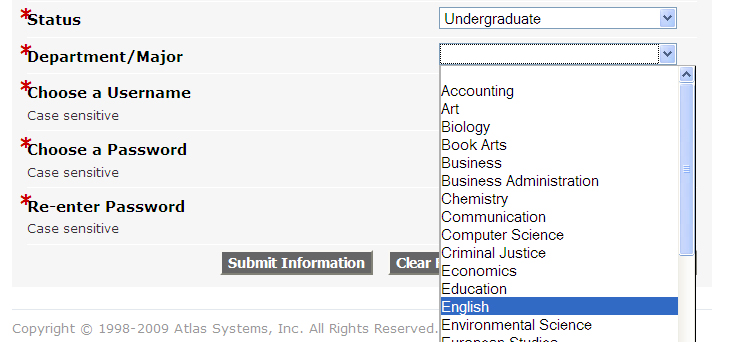 Now you need to choose a username and password. We recommend that you choose something memorable, perhaps identical to your network name and password.
Your usrname can be anything you like, and can include an alphanumeric combination. The ILLiad system will encrypt your password, so it will remain secure. Only you will know your password.
Now you choose "Submit Information" and you are ready to make your first ILL request!